We're back for another BTP interview!
Melissa from Melissa's Eclectic Bookshelf
Hi I'm Melissa! I'm a 30-something Vegetarian, Nature Lover, Animal Lover, Book Lover, Blogger & Reviewer. I live with my husband and kitty Piper in central New Jersey. I work 9-5 but can't wait for evening and weekends to hang out with my family and friends, husband, and cat. I also love to get outside and enjoy and photograph the beauty of our natural world every chance I get. I was pretty green before it was cool to be so and am still trying to improve myself every day. I'm also a voracious reader…and love to curl up with a cup of tea, my cat and almost anything printed that I can lay my hands upon.
1.) What are some things you like to do that do not involve books & blogging!?
That's a tough one because some weeks I feel like all I do is go to work and then come home and blog and read! But I do also love spending time with my hubby (we watch way too much television) and with my family...especially my nieces and nephews. I also love to get outside as much as possible and frequent wine festivals, check out historic sites or just relax at the park:) I also love taking pictures and hope to maybe take a class at the local community college and make that a "real" hobby! LOL
2.) What do you find the most challenging when it comes to Book Blogging. What is the easiest?
The most challenging aspect of book blogging is definitely time management. I work full time and have plenty of household and family responsibilities at home...so I really need to take advantage of the little free time that I do have. I try to write up a week's worth of posts each Saturday morning so that I can schedule them in advance. That frees up the little time I have during the week so that I can actually visit and comment on other blogs. It doesn't always work that way though...some weeks I am frantically writing up the next days post at 10pm the night before!
The easiest aspect:
the reading of course! Sometimes I really have to force myself to stop and write up a review or two before I pick up the next book...because I am so backlogged on writing reviews.
3.) Pick 3 books from 3 different genres that you have loved! & a little about why you loved them so!
Oh Goodness! That's a hard question! I'm going to pull just a few examples of my five star reads from 2012.
Home Front

by Kristin Hannah
I'd classify this one as Adult Contemporary Women's Fiction: This book completely put me through the ringer..Hannah can make me feel emotion like no other and she can also develop and grow characters and families in the most amazing ways.



The Passage

& The Twelve by Justin Cronin
This one is kind of a genre cheat...as the series is considered so many different things by so many different people. I dare say that is a part of it's huge appeal. I'd widely classify it as Adult Literary Fiction/Post Apocalyptic/Science Fiction/Thriller? LOL Suffice it to say that these were two of my all time favorite reads. Cronin is a master and so far The Passage and The Twelve have proved to be genius. This is a truly epic story arc with amazing world building and character development.



Every Day

by David Levithan
Young Adult Contemporary with a Science Fiction twist? I kind of think that David Levithan is a genius as well. I think that he can really see deep into the hearts of people and explore that in his books. His writing is witty and peppered with nuggets of wisdom. I can't get enough.
4.) Match a song to a book!
Oh No! Now comes the part where I have to admit that ...I don't listen to music! Well very rarely anyway...I'm going to have to pass on this one!
5.) If you could be one fictional character. Who would you choose.. & why?
I change my mind about this one about every other day! But today I am going to pick a character from an indie author that many probably haven't heard of or read. I'd choose to be Leena in From Beltane Magic by Jacqueline Paige. Leena is a Pagan/Witch but in a very believable way. And she has an amazing set of friends and a wonderful love life! This book is more magical realism than fantasy. Think Nora Roberts mixed with Sarah Addison Allen. While immersed in this one I just felt so completely warm and happy and got my witchy fix!
6.) Top 3 books you're looking forward to in 2013
Too Many choices! I'm going to narrow this one down to YA and say:
Requiem (Delirium #3)

by Lauren Oliver
Shades of Earth (Across the Universe #3)

by Beth Revis
Sky on Fire (Monument 14 #2)

by Emmy Laybourne
7.) What books (genre) do you tend to NOT read?
Glad you asked what I don't read rather than what I do since I read so eclectically from Children's through Adult and crossing almost all genres. I'd say the only two genres that I 100% do not read are Horror (gore gives me horrid nightmares) and Erotica (I need plot and characeter development in my books)
8.) Favorite book quote(s) ever?
Again impossible to narrow down but here are a few:)
"Mythology is what we call someone else's religion." - The Book of Lost Fragrances by M.J. Rose
"I was attempting to write the story of my life. It wasn't so much about plot. It was much more about character." - Dash & Lily's Book of Dares by Rachel Cohn & David Levithan
"If there's one thing I've learned, it's this: We all want everything to be okay. We don't even wish so much for fantastic or marvelous or outstanding. We will happily settle for okay, because most of the time, okay is enough." - Every Day by David Levithan
"And this, really, is the story-within-the-story, because if you do not believe that hearts can bloom suddenly bigger, and that love can open like a flower out of even the hardest places, then I am afraid that for you the world will be long and brown and barren, and you will have trouble finding the light. But if you do believe, then you already know all about magic." - Liesl & Po by Lauren Oliver
"Love: a single word, a wispy thing, a word no bigger or longer than an edge. That's what it is: an edge; a razor. It draws up through the center of your life, cutting everything in two. Before and after. The rest of the world falls away on either side." - Delirium by Lauren Oliver
9.) Dream Library: Show the library you would LOVE to have in your house!
I've pinned a few here:
http://pinterest.com/mk261274/home-libraries/
10.) 1 bookish confession...
I am always at least 5 books behind in writing reviews. (And I don't review everything I read.) Much as I always tell myself to write the review before picking up the next book...I can't help it! They call to me from my shelves...they need to be read!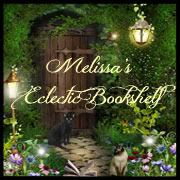 Find Melissa at these places:
BLOG
TWITTER
FACEBOOK
TUMBLR
PINTEREST
GOODREADS