I'm a reader of eclectic tastes but love all YA, lots of urban fantasy, paranormal, epic fantasy, and historical fiction.
1.) What is a day like in the life of Candace? What are some things you like to do that do not involve books & blogging!?
Well, I'm a mother so my days are spent getting my daughter ready for school and then off to school, then I clean house and fit in my reading here and there while trying to entertain my 3 year old. Afternoons are usually spent on the computer, though it's mostly just short periods here and there since I have constant interruptions. I have a Book Promotions business and that has been taking up quite a lot of time as well. I don't have much of a life though, so I don't really do anything else. Once a week I get out and go grocery shopping and sometimes I head over to the bookstore for a little alone time and to browse the pretties. I usually go to about one book signing a month, or so, but I haven't been to one since August when I had a lunch with Gregg Olsen and toured Port Gamble. That was fun because it was a weekend trip and I got to meet some other bloggers as well. In October is Wordstock (the weekend before this will go live) and that's Portland's book festival. I work a shift of it this year and will get to meet some awesome authors like Christopher Healy, David Levithan, Jackson Pearce and oodles more (I'm too lazy to look them all up). I volunteer for 4 hours and then after that I can go enjoy the panels that are remaining for the day. It's going to be a blast!
2.) What do you find the most challenging when it comes to Book Blogging. What is the easiest?
Book Blogging can be very time consuming, sometimes it's hard to do everything I want to do. Finding a balance can be tough and it's easy to think *too* big and then get overwhelmed. The easiest is the reading. Yeah, I get overwhelmed, but getting the opportunity to read all these great books is wonderful. I also love the blogging community and just feeling that I'm *part* of a community. Sometimes being a stay at home mom just isn't enough for the ego, you know? Having a community to be part of outside of that is great. It's just finding the balance so the family doesn't get neglected because they are of course the most important thing!
3.) Pick 3 books from 3 different genres that you have loved! & a little about why you loved them so!
Jacqueline Carey's Kushiel's series is my all time favorite series, EVER. It's adult fantasy and they are books that really push things to the max. I mean, lives are on the line pretty much every moment of every book. It's harsh stuff. BUT with so much on the line I just feel everything so much more, ya know? The romance, the love, the friendships, the hardships, it's all just so powerful. There are 3 trilogies and the first trilogy is my favorite (second and third book better then the first). I very highly recommend it to adults.
The Hollows series by Kim Harrison is one my my favorite adult Urban fantasy series. The characters are fantastic and I like that the author isn't afraid to make things incredibly hard for the characters, so it's emotional, but there are still lots of funny parts. She balances is it really well. And I haven't had such a strong attachment to characters probably in any other series.
Now, I'm finding it funny that I'm coming up with adult books when really I read more YA than anything. So I'm going to go with one of my favorite YA books, Cornerstone (and Keystone) by Misty Provencher. These are a self published gem! They are completely unique (seriously, you can't predict anything cause this has never been done before!) and she balances the serious, intense and funny incredibly well as well.
4.) Match a song to a book!
Skip. Sorry, I know this is lame and horrible but I haven't listened to music much in a few years. I know that's pathetic, but I find myself too busy! I don't like distractions so I can't listen when I read or work. Anything I listen to is 90's music though. Cranberries, Greenday, Offspring, Nirvana... you get the point. But matching it with a song? Sorry, that takes way too much brain power.
5.) If you could be one fictional character. Who would you choose.. & why?
This is one that's a little hard to answer. What I keep coming up with is characters that traveled back in time. The thing is, it would be terrifying to go back in time and not know if you'll come back, or maybe get stricken with a disease... but to SEE history?! That would be amazing! So I'm torn between Nicole from Household Gods by Judith Tarr and Harry Turtledove when she travels back to ancient Rome and Kivrin from Doomsday Book by Connie Willis who travels to the middle ages while the black plague was wiping out the population. I have an obsession with the middle ages... Another one I'm not sure I'd want to be, but would want to be inserted into the story as maybe a side character that is never in danger, is in Kushiel's Chosen (book 2). This world created is so lush and gorgeous and I'd love to see it for real.
6.) When you find yourself in a reading slump, what do you tend to do to kick it?
Read a funny contemporary. Megan McCafferty's Jessica Darling series works good. I save them for those slumps.
7.) Top 2 books you're looking forward to in 2013.
Requiem by Lauren Oliver, Unravel Me by Tahereh Mafi
8.) Author dinner; who would you invite & why?
This is hard... I like to spend time with authors that put me at ease. Actually I met Lauren Oliver last year and she was so nice and I immediately felt comfortable with her. Sometimes you don't feel like an author is really genuine, but Lauren really was. I met Amy Plum early last year and she too was *so* nice and easy to talk to. I guess I'm picking authors that I would feel comfortable with but whom I would love to talk writing and books with and those are two I would love to do that with. But there are *many* more that could easily fit this list. Oh, and I've gotten to spend a bit of time with Suzanne Young already, but she can be there as well and keeps us in fits of giggles *wink*.
9.) What books do you tend to NOT read?
Thrillers, horror, romances (of the harlequin type, or bodice rippers, I guess). I scare easily and the bodice rippers do nothing for me.
10.) Favorite book quote(s) ever?
I don't know that these are my most favorite quotes EVER, but I really do love them.
"I was horribly bookish, to the point of coming right out and saying it, which I knew was not socially acceptable. I particularly loved the adjective bookish, which I found other people used about as much as ramrod or chum or teetolar."
David Levithan, Dash & Lily's Book of Dares
"Luckily, I always travel with a book, just in case I have to wait on line for Santa, or some such inconvenience."




David Levithan, Dash & Lily's Book of Dares
David Levithan's books (and John Green's as well) are full of perfect quotes.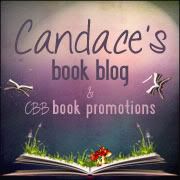 Find Candace Here:
TWITTER | FACEBOOK | RSS | GOODREADS | BLOG
Thank you Candace for taking the time out of your day to answer my questions! I have enjoyed having you on the blog!