CLOSED AT 11:59pm on MAY 8th. any entries after 11:59 will not be counted.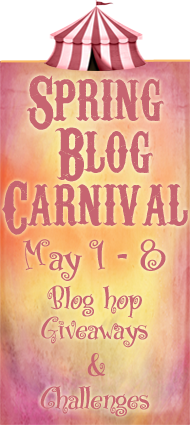 The Spring Blog Carnival is hosted by:
They are pretty 'Awesome' !!
Blog Hop Carnival time is here!
I hope that you enjoy your time at my blog, enjoy the carnival.
On this stop I will be giving away, book of winners choice!
You get to choose a book. Something with a limit of $15. So $15 or Less :)
And Then, when you win.. TELL ME WHAT YOU WANT :) Easy!
So, this is a your choice giveaway!
I want the winner to have a book that they want!
-This is open to all! (MAKE SURE BOOK DEPOSITORY SHIPS TO YOUR COUNTRY) That is where I will be shipping from.
-To enter: Just fill out -->

THIS

<-- form
-Giveaway will be held from MAY 1st - MAY 8th 11:59pm.
YOU DO NOT have to be a FOLLOWER to enter this giveaway!
BUT, by all means... take a look around. You may love it here... and want to come back! & I would be honored! :)
-Winner will be chosen from Random.org and will have 48 hours (2 days) to respond before another winner is chosen!
WHILE YOUR HERE... "LIKE" ME ON MY SIDE BAR FOR FACEBOOK :) Pleaaaaaaaase!